The Spirit Muse is Rev Katherine M Engel, MA, an Interfaith Minister.

kengel@spiritmuse.org
612-419-4958
1041 Grand Ave, #370, St Paul, MN, 55105
---
Arts
Katherine is the Artistic Director of InnerVoice.
InnerVoice is an interfaith arts ministry dedicated to nourishing the human spirit. Through concert-cabarets of song, poetry and story, built around themes, drawing from many sources, and making no distinction between sacred and profane, we explore points of view to cultivate wisdom and deepen the human experience. By sharing our truths, we nurture compassion and appreciate our interconnectedness.

---
Minnesota Fringe Festival 2016
Mother's Milk
August 6-14, 2016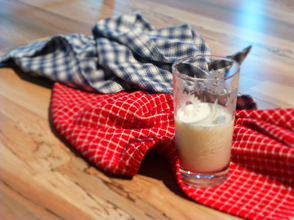 By InnerVoice
Created by Katherine Engel
Playing at U of M Rarig Center Xperimental
Opera/New Music, Storytelling/Spoken word
Cheer, comfort and calamity with momma, nonna, auntie. Compassion unfolds in this cabaret-style show exploring the labyrinth of maternal relationships. Premier of all new songs and stories to unbind the heart.
The creators say this show is appropriate for ages 16+
8/6 - 10.00pm
8/8 - 8.30pm
8/10 - 7.00pm
8/12 - 4.00pm
8/14 - 5.30pm
---
Water Overcomes the Stone - Opening 28 February, 2009
www.spiritinthehouse.org/water-overcomes-the-stone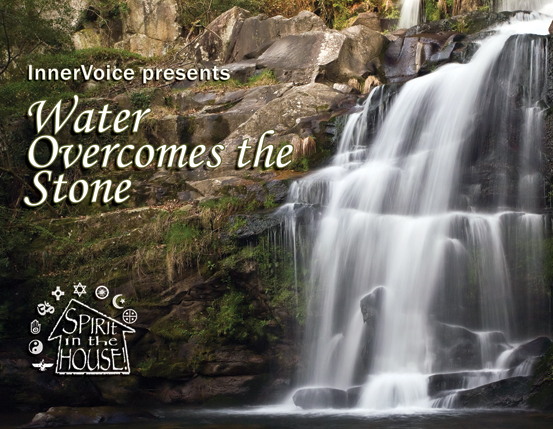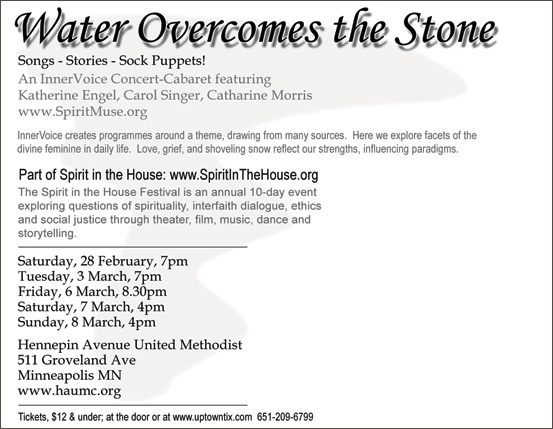 ---
InnerVoice has performed in Duluth at the Wellness Northwoods symposium, at the Lakeshore Interfaith Institute in Ganges MI, in the Spirit in the House theatre festival, and in various churches and recital halls around the Twin Cities, including the Shambhala Meditation Center and Judson Memorial Church.
Previous Programme Titles:
Copyright © 2010-2021 InnerVoice. All Rights Reserved.
Web site design and maintenance by Daniel Design Group